As I have travelled a lot, I made a lot of friends.
To be familiar with my social intercourse, I arranged some fotos of me and my friends.

Unfortunately my pet rats named "Tom and "Jerry" have died, but I am sure that there will be a new rat-generation when my sister is old enough. Till then I won't have much spare time either, as you can see.
I would also not like to withhold you from my girlfriend Wendy.

Since we became acquainted with each other when walking as children, we meet each other daily, only if she smells particularly well she stays away for a few weeks.
There is a foto of Ikon, Wendy and me together, therefore it was very difficult for us to stay calm enough, to get fotographed (for me it helps taking one of these biting sticks, that lie on the ground...)

Then there are Jenny and Julietta, Gina, Woody, Harvey, Samy and all the other Spaniels of our club, which I will present to you later.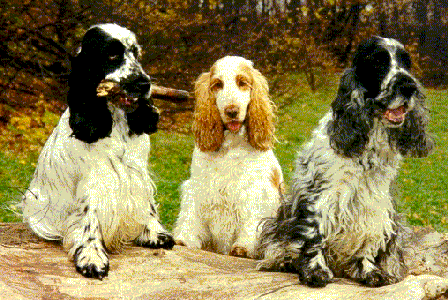 Dandy (Blue Dandy Tim vom Pointenbach) Wendy (Kerry's Isha vom Urhauswald) Ikon (Ikon of Hilltop)